Officially opened in 2019 after receiving £2.8 million in funding from the Single Local Growth Fund, Boston College's EMAT centre is an industry-driven training facility that stimulates growth and productivity across the engineering, manufacturing and agri-tech sectors.
The college is dedicated to improving the skills and talent of the current and future workforce as well as supporting Greater Lincolnshire's key industries and local businesses. It allows young people to unlock their potential with access to quality education and a hands-on approach to learning.
Three years on, the EMAT centre is thriving. It is home to 90 engineering students and apprentices across Level 2 to Level 5 courses as well as 33 motorsport engineering students, and since July 2021 the centre has directly engaged with 25 businesses, opening potential for careers in rural areas.
Facilities include two engineering workshops providing space for traditional and modern design, maintenance and manufacturing techniques, a CAD suite, three classrooms and a break-out space.
The centre also returned victorious from the Greater Lincolnshire Construction and Property Awards in February 2022 alongside CPMG Architects, after they won the award for Best Development Project Under £5 million. Congratulations!
By engaging with national organisations such as Make UK, LIVES, Siemens Energy, Triton Knoll, Royal Corps of Signals and ABB Robotics, students have been able to apply their theoretical skills to real-life industry challenges through interactive workshops, giving them a flavour of careers in their chosen fields.
Riley, a Level 3 engineering student at Boston College, said: "I've always been interested in how things are designed and work, so I knew I wanted to study engineering.
"The EMAT Centre is tailored to engineering, so we have all the industry standard equipment we need. The course encourages you to be independent; at the beginning of the year our lecturers provide us with a project briefing and a deadline, which really prepares you for how the industry works.
"If we do need any support or help the lecturers are always available, and they all have industry experience, which is great. Once I finish college, I either want to continue my studies on the HNC course or gain employment in design engineering."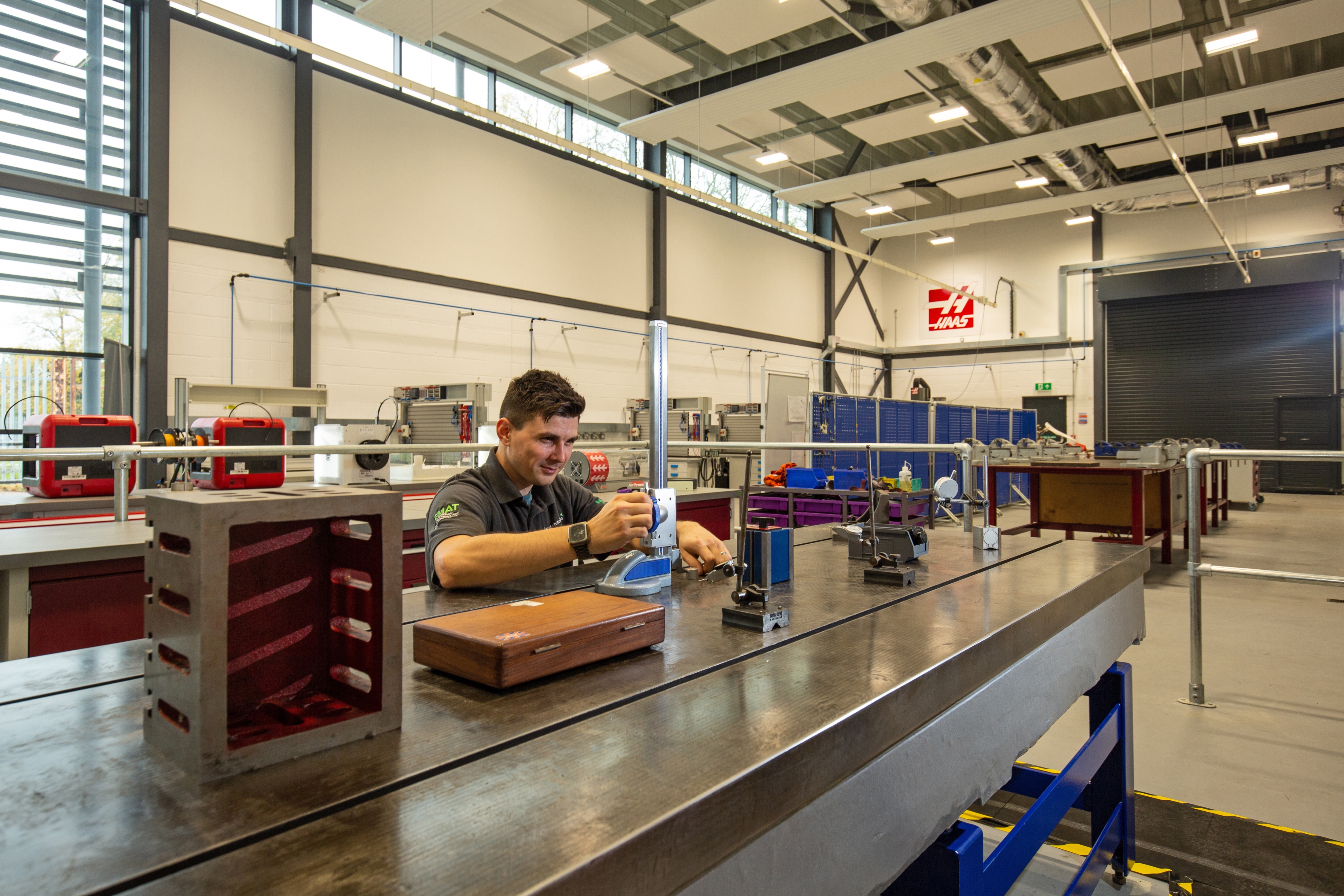 The centre marks a milestone upgrade to the skills provision in Greater Lincolnshire as it also forms part of the college's Institute of Technology (IOT) led by the University of Lincoln, which has hubs in Grantham, Grimsby, Holbeach, Lincoln, Scunthorpe and Riseholme.
Boston's IOT includes state-of-the-art facilities such as a graphic suite, electronic and robotics room, hydraulics and pneumatics training equipment, a university-level seminar room, and a digital technology suite.
Pat Doody, Chair of the Greater Lincolnshire LEP, said: "Boston College's EMAT centre has gone from strength to strength since its opening, supporting hundreds of young people to realise their potential and achieve their goals.
"Engineering, manufacturing and technology are all vital to Greater Lincolnshire's industries, particularly in our game-changing sectors of defence, clean energy and further within the UK Food Valley project.
"The LEP is delighted to see the progress the college is making and will continue to support its students through targeted skills programmes and initiatives."
If you would like to find out more about Boston College and courses at the EMAT centre, click here. For more information about the Greater Lincolnshire LEP's Single Local Growth Fund projects, click here.