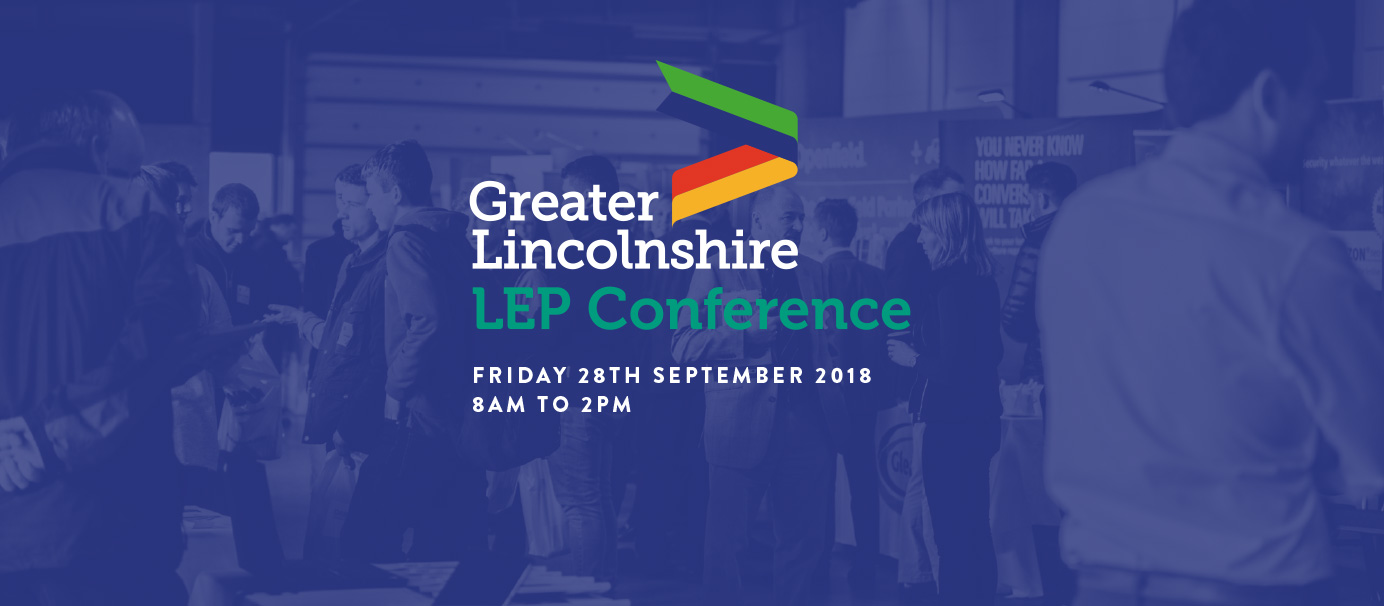 EPIC Centre, Lincolnshire Showground, Grange-de-Lings, Lincoln, LN2 2NA
Register Now for FREE tickets
Future of the Lincolnshire Economy
The Greater Lincolnshire Local Enterprise Partnership's annual conference and exhibition is a well established, keenly anticipated event in the Lincolnshire business calendar. Attracting around 400 delegates every year, the conference is our flagship public-facing business engagement event which takes place every autumn.
The newly rebranded Greater Lincolnshire LEP Conference will bring together key leaders from business, education and the public sector as well as industry and government representatives to look at the successes, challenges and opportunities for our economy in the future.
The event will feature high-profile keynote speakers, four panels discussing the future of skills, energy and water, digitalisation, and robotics and automation, and plenty of networking and new trading opportunities.
The keynote speakers will be Sir John Peace, Chairman of the Midlands Engine, who will talk about the future of the economy and how Greater Lincolnshire fits into the Midlands Engine's vision, and our Chair Ursula Lidbetter MBE, who will review the past year and look forward to what the next 12 months may bring.
Click here to view this year's panellists and speakers.
This year we want to hear from leaders of businesses of all sizes, from SMEs to large-scale corporations, about the issues, challenges and opportunities facing Greater Lincolnshire. Our conference will gather your views and help to shape Lincolnshire's economic ambition and vision.
Complimentary delegate passes are available to book here.
We are also delighted to offer 10 delegates - on a first come, first serve basis - the opportunity to join a Meet the Expert from our panel for open discussion on their areas of expertise.
EXPERT: Dr Megan Ronayne is Membership Development Manager for EEF - the Manufacturer's Organisation
EXPERTISE: Future of UK Manufacturing/Competitiveness/ Skills (shortages& apprenticeships) Click here to book
EXPERT: Professor Simon Pearson is Director of the Lincoln Institute of Agri-Food Technology (LIAT)
EXPERTISE: Agri-food technology/ Robotics/ Agri-tech automated vehicles
Click
here
to book
EXPERT: Richard Blackmore is Regional Director of CBI East Midlands
EXPERTISE: Government strategy/ Brexit planning/ preparation Click here to book
EXPERT: Allan Simpson is Strategic Growth Manager, Anglian Water
EXPERTISE: Infrastructure strategy/ planning – utilities, water, homes Click here to book
You can additionally drop in for individual consultation with our UKTI Exporting is Great colleagues or to book to join one of two 30 minute masterclasses
UKTI: Seven top tips for selling online to buyers overseas.
Click here to book.
UKTI: Seven top tips for increasing your exports.
Click here to book.
All of our Meet the Expert and UKTI Sessions are available to book here.
Would you like to exhibit at the LEP Conference? If you have an innovative product to showcase, new technology to demonstrate or a great idea you want to shout about, which fits our theme, then contact Sarah Carter on: 01522 585501 or email: scarter@lincolnshireshowground.co.uk for more information.
We look forward to seeing you in September!